We've added five new titles that are sure to scare the daylights out of you while, of course, informing and entertaining you. First up…
Horror! : 333 films to scare you to death /Carlton, 2010.
From Psycho to Saw, James Marriott and Kim Newman have compiled details of 333 key horror films including creepy black-and-white classics (Repulsion) to colorful splatterfests (The Texas Chainsaw Masacre)  from one of the most popular film genres for over a century. Next…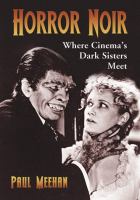 Horror noir : where cinema's dark sisters meet/McFarland & Co., c2011.
"Film historian (Paul) Meehan follows Tech-Noir (2008), which explored the fusion of noir and science fiction and fantasy, with an equally engaging survey of films that blend horror and noir elements. Film noir, he explains, took from horror its visual style—the shadow motif, for instance—and much of its thematic core (psychological terror, blurring the line between good and evil)."-David Pitt (Booklist) Followed by…
Count down to terror : ranking the top 100 horror movies/Diamond , 2010.
This super-colorful overview contains over 600 rare visuals that pit horror against horror in the ultimate scary movie match-up. Screenwriter/film historian Gary Gerani presents and evaluates the cinema's most celebrated shockers, from silent classics to today's gorefests. And for the fans of suspense…
Hitchcock, piece by piece/ Abrams, c2010.
The Hitchcock family archives have been raided for this new coffee-table book by Laurent Bouzereau containing rare photos, many never before published. Housed in pouches are fascinating facsimile reproductions of memorabilia and scrapbook-type items which offer a tactile, hands-on perusal.  Handwritten notes and family snapshots are just some of the mementos which frame the story of the inventor of modern horror's life and work. And finally…
Universal Monsters: A legacy of Horror/ Universe Pub., c2009.
Michael Mallory's visually stunning book explores Hollywood's horror film characters from Frankenstein to The Creature from the Black Lagoon and chronicles the mythology behind your favorite Universal Studios horror movies from the 1920's to the 50's.
Contact the Arts Division to find out more about these titles and others like them!